Women in Collaboration: My Trip to Cuba
Dianne Post, published in Rain and Thunder: A Radical Feminist Journal of Discussion and Activism, Fall 2017, Issue # 68, www.rainandthunder.org
From March 1-10, I participated in the 2017 U.S. Women and Cuba Collaboration. The collaboration is made up of women and women-led organizations working in coalition with women in Cuba to build progressive women's movements and networks. The main focus of the collaboration is on the issues of racism, sexism and homophobia that Cuba has only in the last ten years admitted were problems. In addition, we agreed to work for at least one year on ending the U.S. embargo.
I was part of a delegation that flew into Cienfuegos, a city on the Southern coast of Cuba, and had a meeting with representatives of the Federation of Cuban Women. They proudly detailed that 38.5% of delegations to the municipal assembly are women. Women also comprise 73% of courts, 50.7% in education, 59.5% in health, 71.3% in the economy, and 73% in civil society as well as political and grassroots organizations. . They were very proud that in their province both the head of political power and executive power are positions held by women, which is an important achievement. But the real political power in Cuba is within the communist party and women hold only 7% of those seats.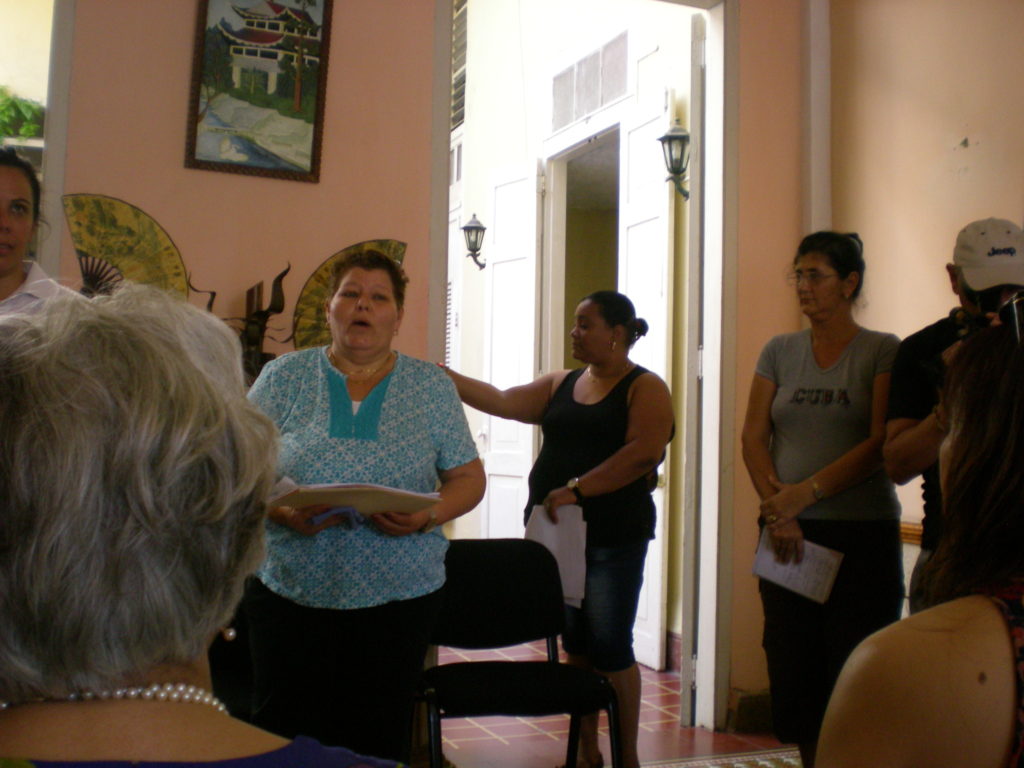 At the hotel that evening, we met with the lesbian group called Phoenix. The group was started in 2008 to work for the rights of lesbian and bi-sexual women.   It is lead by a Black woman who had been fired from her place of employment when she came out. She sued but the case was never resolved. She was also thrown out of the communist party because she was a lesbian, but protested and was re-admitted.   The group got government authorization to speak in the media. The group is now looking at gay marriage. While there are no specific laws about LGBT individuals since it is assumed everyone is equal, there is a new draft law being brought forward prohibiting discrimination in employment against LGBT individuals.
On March 4th, we went to Trinidad and met with a lesbian group there called Caucubu after an indigenous woman who was reported to be a lesbian. The group also works for the rights of lesbian and bi-sexual women and to legalize same-sex marriage. They meet monthly and have a local radio show. The leader said that there has been no backlash because, "the population is civilized here" but one of the members immediately contradicted her by saying that in her school discussion of LGBT issues cannot even be whispered.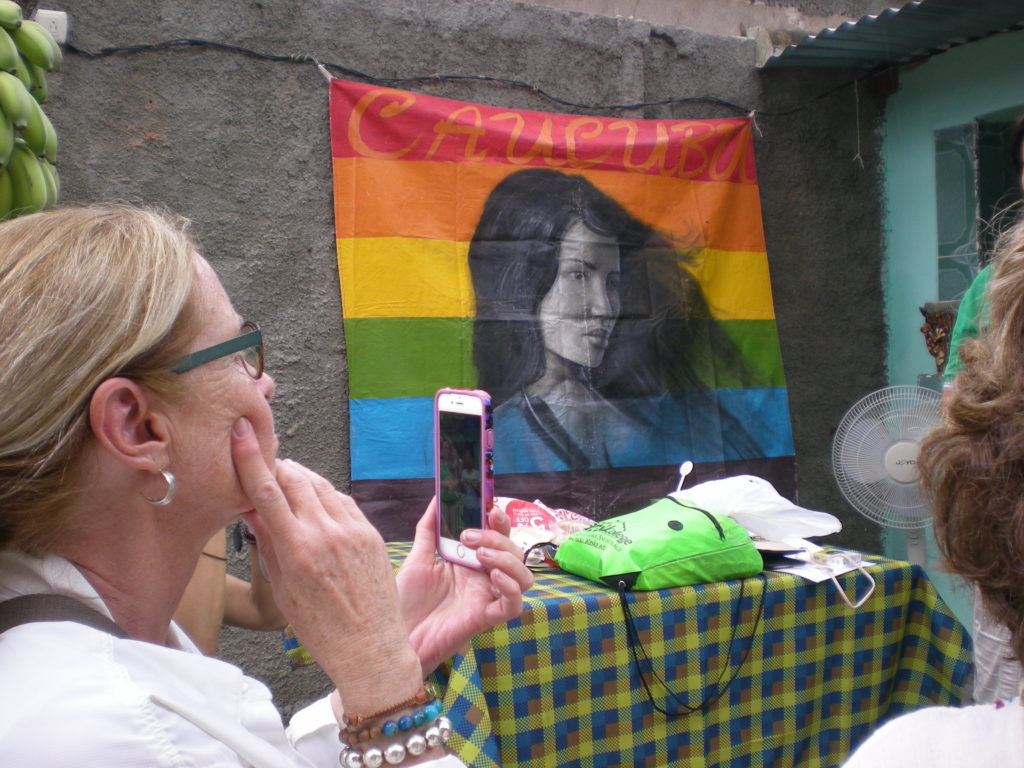 On March 5th, we visited the slave museum at Matanza, now a World Heritage Site. Matanza means slaughter in Spanish and is so named because it was the center of sugar cane production and thus slave importation in Cuba. The first slave rebellion in 1848 took place in this region near the Bay of Pigs. Slavery was abolished in Cuba in 1886, but the movement to educate the people of Cuba about the history of slavery only started in 1978.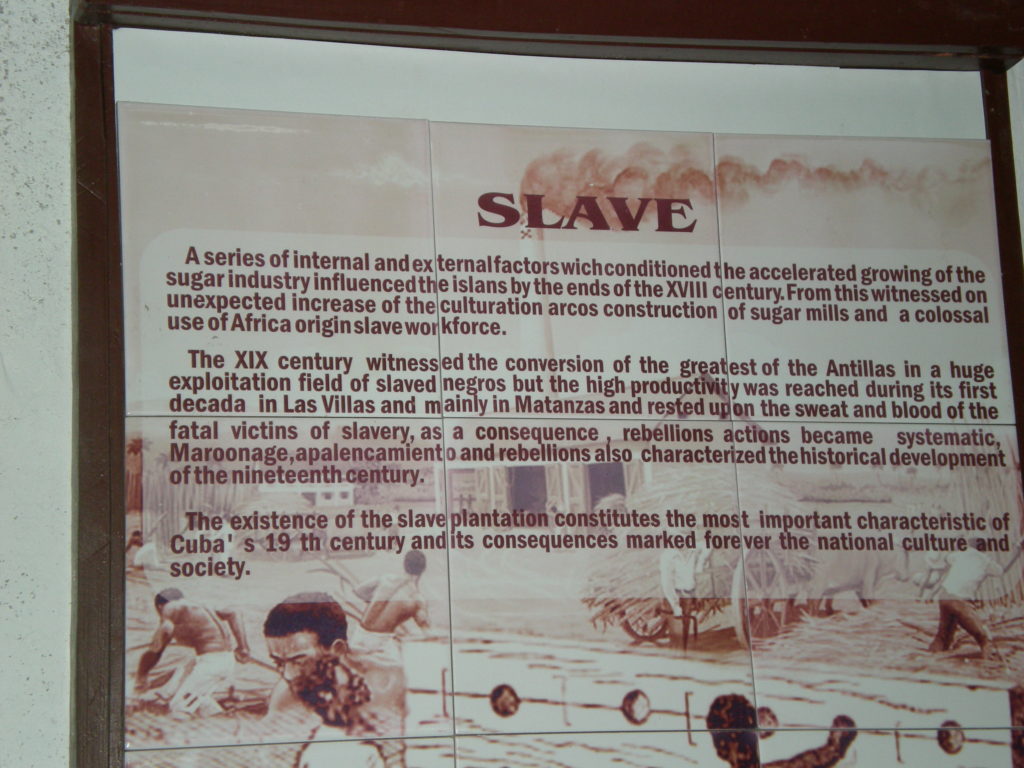 On March 6th, we went to Havana and had a presentation from the ICAP (government tourism organizers) representative there.The presenter was a very impressive Black woman who focused her talk on racism and sexism. She is working on her PhD to deconstruct slavery and racism in Cuba by looking at the political system and colonial mindset. Racism is a global phenomena so Cuba is no different from other places. Yet she argued that African culture is very prevalent in Cuban music and art and it is a trap to talk about race separating Cubans as the African culture is already inside the Cuban identity. But many Cubans of African descent are out of the mainstream economic structure. She pointed out that equal opportunity does not produce equal results because those who started in front keep ahead.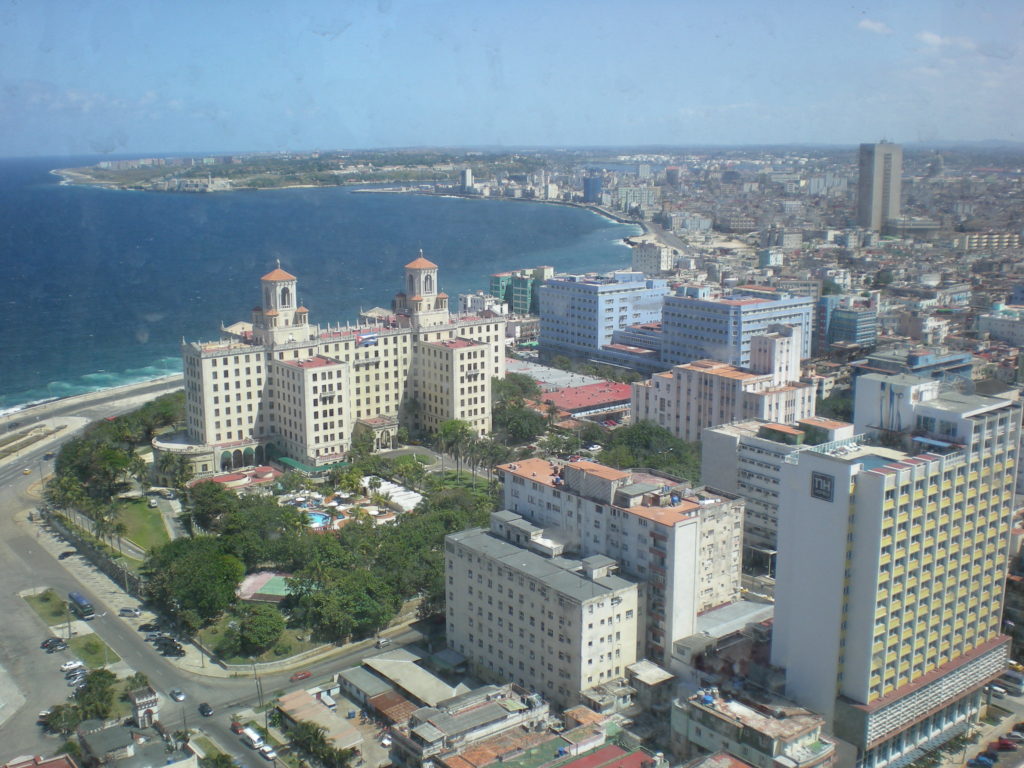 The group also attended and some presented at the International Women in the 21st Century conference that took place at the University of Havana from March 7-9th. My ten minute presentation was entitled, "The Legalization of Prostitution Violates International Human Rights Law," and I argued for the adoption of the Nordic model. During the Question and Answer portion the issue of prostitution seemed to generate the most discussion with Americans often speaking for the legalization of prostitution and Cubans speaking against it.
In the afternoon, we visited the community center called Pogolotti in a poor part of Havana. The difference in the quality of the housing and streets was obvious.
The women organizers were proud that this center was the first in a working class neighborhood to have a night school as they aimed to transform the physical and cultural environment. They worked with prostituted women giving them resources to obtain money in a different way.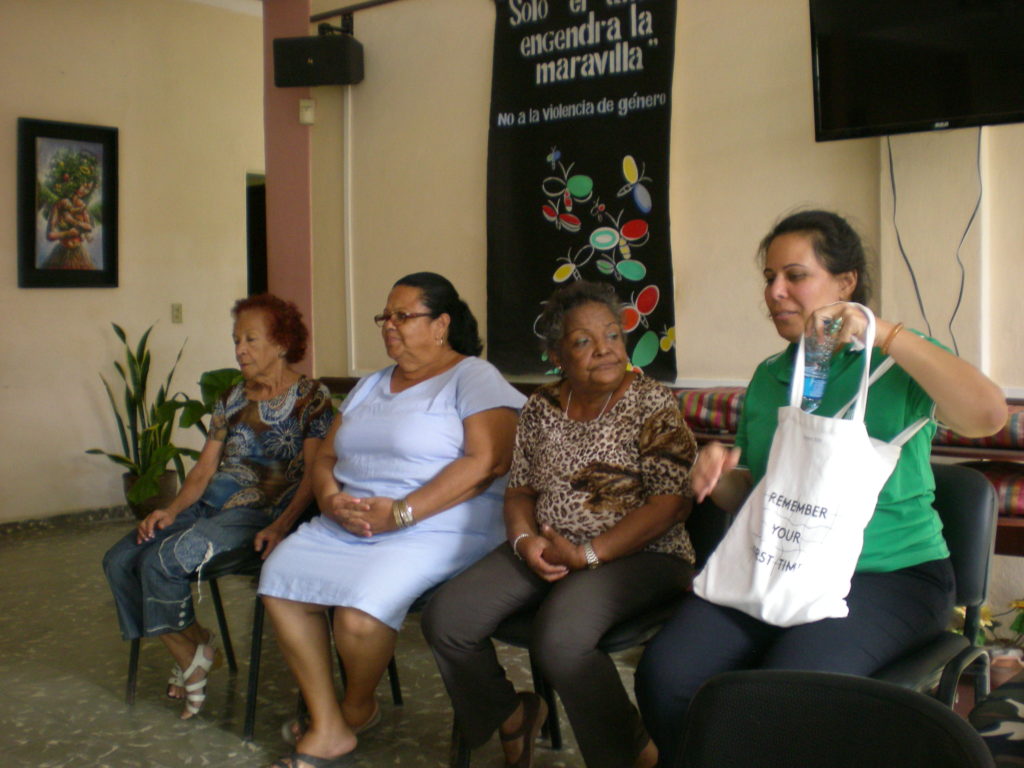 The community center started teaching crafts that were then sold, created an art project for children, and planted a small garden with organic produce that was sold at a farmers market. Since 2011, they have worked on a "gender approach" due to a survey they conducted that found many women were victims of domestic violence. Their survey also found that women do far more work than men – no surprise to many of us. They discussed the stereotypes that start at birth. They work with women in non-traditional fields and fight machismo by pointing out that men are not "helping" women with the housework and child care, but that it is equally their responsibility. These are universal problems that the feminist movement around the world has worked on for fifty years.
On March 9th, we had a rare treat to hear a talk by filmmaker Gloria Redondo. She spoke mostly about her film, "War of 1912: Silence" about a historical moment that has long been silenced in Cuba: the massacre of 3,000 to 6,000 Afro-Cubans by the Cuban military.
She finished by describing her next film about the first group of Black nuns, the Oblate Sisters who were in Cuba from 1900-1959. She wants to counter the currently distorted view of Black women in pre-revolution times, but needs fundraising help. You can learn more about her films at http://afrocubaweb.com.
Our last visit on March 9th was to CENESEX, the national sex education department.
Teresa de Jesus Fernandez, now second in charge, had fought alongside her father for Castro, but had to flee Cuba in 1959 because she was a lesbian. She spent 25 years living in Italy and returned to Cuba only six years ago. She now runs the publishing house for CENESEX and is the coordinator of a national LGBT group that has chapters in eleven provinces and is going for all sixteen.
When asked about sex education in schools, she replied that they have it in appropriate forms all the way down to primary school because they have no religious influence to interfere with the curricula. When asked about prostitution she said that prostitution is not a crime but facilitation is. However, the women are detained in a "refuge" which they are trying to eliminate because it is basically arresting the victim. Instead they want to offer an exit strategy and focus on demand as is done in the Nordic model.
Rape still remains a major problem. Though they now have one-stop centers for child victims of sexual abuse, they don't have such centers for adult victims. The rapist is often a family member or someone the person knows so many rapes go unreported because of shame and family protection. If a person is convicted, he will go to jail and they use chemical castration if the person cannot refrain from such abuse.
Looking at the new political issues, it seems that the LGBT movement has gained the most steam. Fear of dividing the poor and the rich, or even admitting there is such a division, still hampers work on racism, and the culture of machismo stands in the way of women's progress.
Postscript:
On June 16th, the new administration announced a reversal of the policy that President Obama enacted that began to open up our relations with Cuba. The consensus is that this new old policy will only harm the Cuban people. Americans can still travel to Cuba, but have to meet certain criteria for a visa. They cannot stay in any hotels owned or operated by the military or intelligence agencies. This is a boon for the cruise ships and tour operators who book group tours. It is harmful for the individual or small group travelers on their own.
Cuban B&B's that are individually owned have already received many cancellations since the announcement of the policy. Some years ago, Cuba started letting people open small businesses including day care centers, B&B inns and restaurants. These entrepreneurs will be the ones harmed by the policy, not the Cuban government.
Many Cuban civil rights activists have stated that this policy will also harm the civil rights movements that have made great progress in the last few years. While 1,200 dissenters a month used to be arrested, now it's down to 400. When the U.S. clamps down, the Cuban government clamps down and the people rally around the government just as every country's citizens do when an enemy is created. Trump is kowtowing to the Cuban ex-pats who are still angry about losing their property and lucrative source of income from prostitution, gambling and labor exploitation.
While many bills have been introduced into our Congress about the embargo, The Cuba Agricultural Exports Act (HR525 is most likely to succeed. So send letters to your own Congressperson to co-sponsor HR525.
Learn more about the U.S. Women and Collaboration by going to www.womenandcuba.org.
And for you old car lovers,